Nissan Service & Auto Repair in El Paso

Service & Repair
in El Paso, TX
Certified Nissan Service Department in El Paso, TX
Regular service and maintenance for your Nissan is essential to your vehicle's longevity. As a Nissan owner, you want to stay together with your vehicle for as long as possible and make sure that it's running at peak performance. In order to make sure that happens, visit Viva Nissan, located in El Paso, TX. Our Nissan certified technicians have been factory-trained to work on all models and all ages of Nissan vehicles, meaning they can take whatever you throw at them when it comes to Nissan service. Whatever you need - oil changes, wiper blade replacements, brake fluid exchanges - schedule online today with Viva Nissan for a service experience unlike any other.
Oil Changes
Your engine's maintenance is obviously key, and our certified technicians provide you with multiple options to address engine oil maintenance. Conventional oil changes are your base option, semi-synthetic oils are your next step up, and full-synthetic oils are going to be your top-of-the-line oil change service that provides maximum benefits. All of those - plus diesel oil changes - are available when you schedule online with Viva Nissan.
Learn More
Tire Service
Purchase new tires for your Nissan by perusing our online catalog, stocked with the best tire brands that you know and trust. Services for those tires include:
Tire inspections
Tire patching for resolutions of punctures
Tire rotations for basic maintenance of your tire tread
Tire balancing to eliminate imperfections in your tires
Alignment services - including two-wheel and four-wheel alignments to ensure your wheels are aligned according to manufacturer settings
Learn More
Brake Service
Brakes are crucial safety components in your Nissan, and without proper maintenance of them, you become a danger to yourself and others on the road around you. Schedule any of the following services online today in order to stay safe while traveling throughout El Paso, TX.
Brake inspections
Brake rotor resurfacing/replacement services
Learn More
Battery Service
Testing and inspecting your battery are recommended by Viva Nissan at least once, if not twice per year. If testing/inspections of your battery determine that it's not fit for purpose, replace it using a genuine OEM battery, available for purchase online in our El Paso, TX service center.
Learn More
Transmission Service
There are three basic components of transmission maintenance: inspections, fluid exchanges, and total replacements. If you're unsure about your transmission's current condition and what your Nissan needs to stay ahead of the game, consult one of our Nissan certified technicians today to get a clearer picture of your vehicle's transmission.
Learn More
Coolant Fluid Exchange
Cabin Air Filter Replacement
Engine Air Filter Replacement
Differential Service
Fuel System Cleaning Service
Fuel Filter Replacement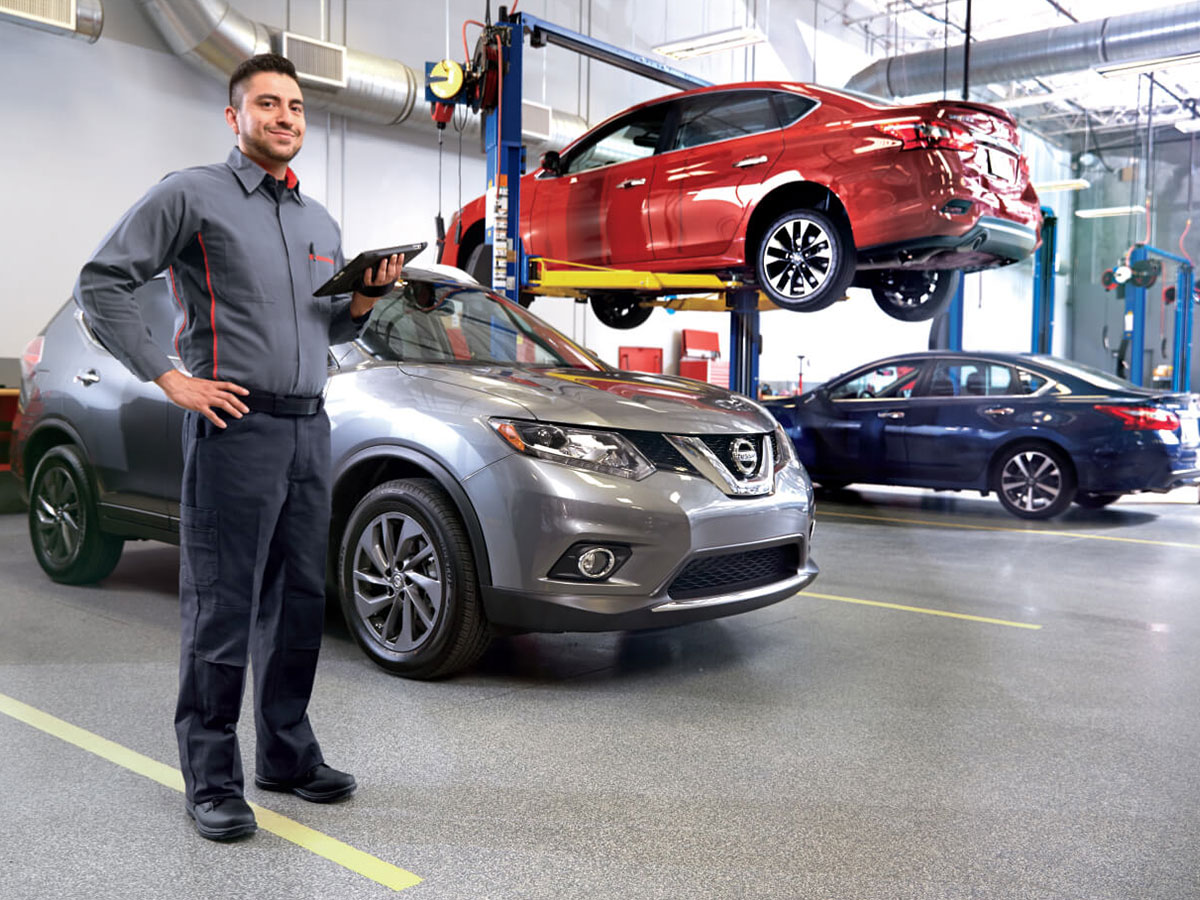 Visit the State-of-the-Art Facility at Viva Nissan for a Service Experience You Won't Forget
Servicing your car is only half the battle - serving you is the other half. We excel at providing customer experiences that earn our customers' trust and loyalty. Come see for yourself, and schedule your Nissan service in our El Paso, TX service department, proudly servicing customers hailing from as far as Ford Bliss, Horizon City, and Socorro, TX. Or stop by our Express Service Department for no appointment service on select items.
Schedule Service
Viva Nissan Service Department Amenities
State-of-the-Art Facility
Viva Nissan

1310 North Zaragoza
El Paso, TX 79936